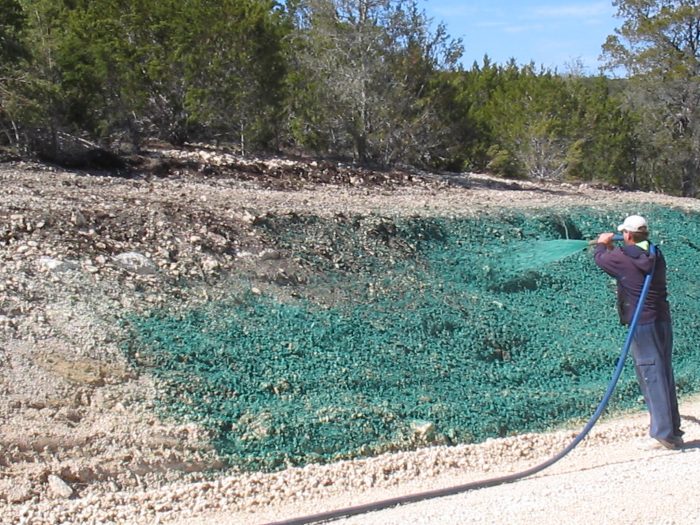 Dickinson Sprinkler & Lawn Seeding, Inc. provides a wide variety of components and services to ensure the best planting of your new lawn or re-vegetation of your building site. With over 30 years of experience in the San Antonio, Live Oak, Selma, and New Braunfels, TX areas, we have seeded projects as large as 50 Acres and as small as your backyard for fractions of the cost of sodding.
Our business is happy to provide hydromulch and seeding for San Antonio, TX general contractors, landscapers, and homeowners. Send us your specifications and the size area you need to seed, and we will promptly respond with a highly competitive quote. And if you aren't sure which type of lawn you should be planting, our experts will be happy to walk you through your different options.
Here is a closer look at what Dickinson Sprinkler & Lawn Seeding, Inc. has to offer in regards to hydromulch and seeding in San Antonio, TX:
Our services
We're pleased to offer hydromulch seeding, hydroseeding and broadcast seeding, alongside a wide variety of mulches for the right erosion control. Some of the specific areas of expertise that our offerings encompass include:
Blackjack Bermuda
Buffalo grass
Zoysia
Native grass
Winter grasses
Our guarantee
After we have done an initial job for you, we will be happy to come back and re-seed any area that is 12" in diameter or greater that does not cover within a reasonable period of time. Yes, we really do care that much about the quality of our service to you!
Our clients have relied on our expert advice, quality products and excellent work since 1983, and we look forward to helping your lawn thrive. For more information on our hydromulching and seeding services, please give Dickinson Sprinkler & Lawn Seeding, Inc. a call at 210-650-5329, or visit our Contact Us page. We can't wait to assist you with hydromulch, seeding, sprinkler repair, backflow prevention, and more!